Expect Motivation
          My job is to get you to do what you don't want to do, so that you'll be able to do what you've always wanted to do!"

~Vince Lombardi
I know that it's a good idea for me to vacuum the floor in the studio every week, but it's easy to neglect this chore if there is not a sense of immediate relevance. If, however, I schedule a prospective student and their family for an interview at the studio, I feel especially motivated to make sure the floor is vacuumed before they come. In the same way, a typical student will find it difficult to make practicing a priority unless there is a sense of immediate relevance. Weekly lessons provide one element of this as students prepare assignments for me, but at Natalie's Piano Studio, one of the biggest motivational elements is our yearly practice incentive theme.
Each year's theme is designed based upon lots of prayer, thought, and input from students and parents at the Year-End Evaluations in the spring. Here is a glimpse into the benefits of what students will gain from being a part of the studio theme:
A holistic education – in addition to musical knowledge and skills, each theme seeks to integrate additional educational elements, such as history, geography, economics, cross-cultural understanding, etc.
Measurable goals – each theme includes the opportunity for students to select specific goals to work toward as part of their lesson assignment every week. The goals are adaptable for every age and level of student so that all students have equal opportunity for success.
Tangible progress – the student's goals are tracked in their custom-designed assignment books and often on a chart, map, or other marker on the studio wall. This provides a visual representation of what they have achieved and what they are working toward next.
Camaraderie – by participating in a common theme, students experience a better sense of connectedness with other students in the studio and often have the opportunity to work together on a project or ensemble. Theme-related group classes held throughout the year provide additional time working toward similar goals and participating in activities together.
Enthusiasm – as soon as the spring semester draws to a close, I already have students asking what the next year's theme will be. Of course, I never know that far in advance, but we all look forward to something new and exciting to push us toward new musical goals the next year! I love spending time during the summer dreaming and drawing up plans for the new theme. And the students eagerly await the official announcement of the theme at our annual September Surprise!
Musically enriching rewards – ultimately I want the practice incentive theme each year to provide a framework for students to develop discipline and experience progress in their musical studies. As a way of recognizing them for their hard work, they have the potential to earn a reward for their diligent efforts. The specific reward changes each year, but is designed to relate to the theme and contribute value to their musical experience. For example, one year we took a trip to a recording studio where we took a tour and each student got to record a selected piece for a compilation CD; another year we did a group field trip to a symphony rehearsal and finished it off with an ice cream sundae party back at the studio; one year students organized a special dinner and musical event; one year they earned "money" to buy a special souvenir t-shirt; another year they participated in The Gallery, where they displayed musical projects and sold them to earn real money for their entrepreneurial efforts; etc.
---
Here is an overview of previous years' studio themes:
Project 28 (2013-2014)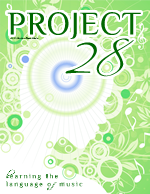 Drawing on the understanding that music is a language, each week's assignments are organized to help the students become fluent. This means they will be focusing on hearing, speaking, reading, writing, thinking, and living music throughout the year. At the beginning of the year, students will answer the question, "What do you want to be able to do by next May that you can't do now?" This will serve as their overarching goal for the year, and will be broken down into a mid-year goal, and 4-week (28 days!) goals that they are working toward to ultimately accomplish their goal for the year. Every 4 weeks, a Film Week gives students the opportunity to share (verbally and/or musically) what they have accomplished in working toward their goal.
An Italian Intrigue (2011-2012)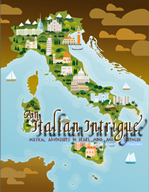 Explore the Italian countryside and cities in this travel-themed practice incentive! Students will become better acquainted with the geography of that land, see some of the world's oldest architectural structures, learn a bit of history, and experience a taste of Italian culture. The students will move from location to location by correctly deciphering a set of photo clues to locate the mystery musician. Students who reach the correct destination get the added excitement of continuing their travels covertly – unless, of course, another student lands on them and flips them back over!

In addition, they will learn to set longer range goals and establish a plan of action to achieve those goals one step at a time. Along the way, students will be earning Complication Coins for achieving their goals, participating in music events, practicing, and learning Italian terms – all with the objective of learning to play beautifully, naturally, and excellently. Complication Coins can be used at the end of the year to purchase a colorful souvenir t-shirt and sponsorship space on the shirts for their own special logo.
Quest for Capital! (2010-2011)
Bring the entrepreneurial spirit alive with this highly educational and creativity-driven practice incentive! Each week students have the opportunity to invest in the stocks of their choice – improvisation, sight-playing, performance, and listening. With stock prices fluctuating from week to week based on how much is invested, you'll have students plotting out new strategies so that they can earn more capital. A list of Capital Improvement Projects will get the creative juices flowing, especially when students realize that they can make real money by selling their creative projects!
Exploring a Galaxy of Music (2009-2010)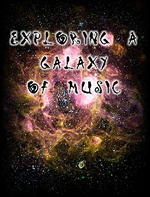 Blast off into an exciting year of lessons! This "out-of-this-world" practice incentive will have students eagerly striving toward new heights in their musical studies. Mission details are custom-designed by the teacher each week, with the student choosing his own "Stellar Student Selection" and "Cosmic Challenge" to accrue more points toward placing objects in his team's galaxy. Students take ownership for their progress by determining their own mission rating each week, and you'll find them jumping at any opportunity to earn extra points!
Mastering the Mystery of Music (2008-2009)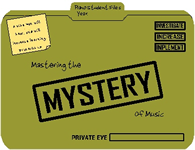 Calling all super sleuths to the scene! The suspense is high in this captivating practice incentive. Weekly mastery challenges selected by the student will be the key to cracking the code and unlocking the mystery. Categories like "staff scout," "terminology trainer," and "rhythm recon" will have students enthusiastically advancing in their musical studies, eager to receive the next clue and earn a listing in the official studio Agency Directory!
Go for the Gold! (2007-2008)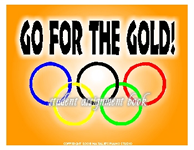 The Olympic spirit of both team cooperation and competition is in full force with this energetic practice incentive! Students are assigned to a team color at the beginning of the year and have the opportunity to earn lots of points each week that contribute to their individual and team scores, all in the hopes of propelling their team toward the GOLD! Designed to focus specifically on three areas – written theory, sight-reading, and ear-playing – this format capitalizes on the strengths of each student while motivating them to work diligently to develop their weaknesses for short designated sessions.
Let's Have a Ball! (2006-2007)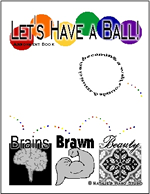 A musical ball, that is! This exciting practice incentive is especially designed to promote camaraderie and help students become "well-rounded" musicians. Different aspects of the theme will have them developing brains, brawn, and beauty. Throughout the year students can earn rubber bouncy balls for completing various assignments and practicing consistently. Balls can then be traded in for entry slips into a drawing that is held at each of the themed musical balls throughout the year. You will be amazed at how much your students will learn to enjoy performing using this approach!
Climbing the Ladder to Success (2005-2006)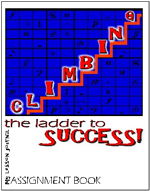 Up, up, and away! In this fun practice incentive, students hone their sight-reading skills as they tackle piece after piece to advance to the next rung of the ladder. Students are given a 4-step outline for learning each piece and must demonstrate excellence in order to move on. Along the way there are numerous opportunities to earn Diligence Dollars, which can be accumulated all year long and turned in for an incredible prize at the end of the year!
An American Adventure (2004-2005)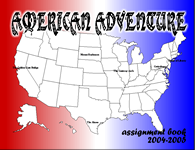 This adventure of setting and achieving goals from a list of suggestions earned students tickets each week that were used to purchase a spot at American Landmark Tours throughout the year. Each tour featured a famous American Landmark – The Statue of Liberty, Gettysburg, The Gateway Arch, Mount Rushmore, The Alamo, and The Golden Gate Bridge. Students were also allowed to enter their names in a jar a certain number of times based on how many days they practiced that week. At each of the tours, I drew two names from the jar and told the students that they would be invited to join me on a "real-life" trip at the end of the year. The details of the trip were top secret and, try as they might, none of the students could coax any information out of me. Fun activities and games at each Tour reinforced the value of teamwork and helped the the history surrounding each landmark come alive for the students!
Traveling to Triumph (2003-2004)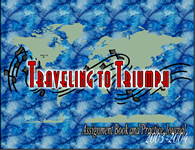 A huge map of the world featuring 13 capitals as destination points was hand-drawn and affixed to the studio wall. Each student's name was written on a little die cut figure and placed at the departure point – Derby, Kansas of course! In the front of each assignment book is a Mileage Chart and a list of ways to earn spending money. Daily practice earned students travel miles each week, with a special bonus for practicing all seven days. The goal was to travel to as many cities as possible. Along the way, spending money (a.k.a. Diligence Dollars) was be earned by completing extra projects, performing at events, or learning new pieces on their own. At the end of the year, I held an auction with items available from each of the representative countries. A former student of mine was working for an auction company, so I recruited him to come in and serve as the auctioneer for the event. Some of the students had racked up hundreds of dollars in spending money and went away with a huge stash of goods! Every student won the bidding on several items and left pleased with the outcome.
The Box Club (2002-2003)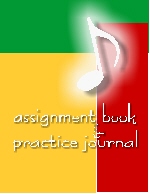 One of the simplest, but most motivating themes, The Box Club is designed to help students develop consistent practice habits. The mother of one of my students had suggested that it would be helpful to have a daily practice guide that the students could follow to know how to structure their practice time each day. I loved the idea and put together a Daily Practice Guide and included it in the front of the assignment books. Pages full of boxes comprise the next part of the assignment book, with a special place at the bottom of each page for the teacher to sign off completion of that level and assign the student a membership number. Membership rosters were posted on the wall above the piano and the first person to arrive at each level was listed as the Club President. The second was the Club Vice-President. Toward the end of the year, all the students who had been admitted to the club as officers were invited to a meeting at the studio where we planned and organized a special year-end event. We called the event "The Box Club Musical Dinner" and decided to give it a patriotic theme. The event included dinner and a musical show comprised of a variety of selections by all the students and a few guest artists.
Milestones to Musical Mastery (2001-2002)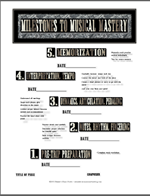 The wall above the piano became a road map of sorts, with eight milestones placed along the way at regular intervals. Each student got to select their preferred mode of transportation, from camels to ships to airplanes, and write their name on it. At the front of the assignment book individual road maps marked students' progress and outlined how to take a piece from the very beginning stage of learning it to a polished performance-ready state. Once a piece reached that point, we recorded the title and date and they got to move ahead to the next milestone. On each milestone marker was the name of a famous composer. Throughout the year, I scheduled several historical tours where we would travel back in time to meet that composer. Students who reached that milestone were invited to attend the tours – including memorable trips into the attic to copy music by candlelight with Bach, and to the throne room of King George I of England to explore the life of Handel.
Practice Your Way to A Party (2000-2001)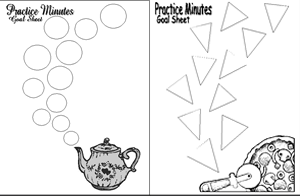 Each of the students set their own goal for how much time they wanted to practice each week. Once they reached specific goals, they got to color in circles on a page at the front of their assignment books. At the end of the year, everyone who had reached their goal was invited to a party. For the boys, I threw a pizza party and we played lots of fun, active games. For the girls, I planned an elegant tea party and encouraged them all to come dressed in their best afternoon tea dresses. Each of the girls was assigned a famous woman from history and collected information about her. At the Tea they shared the information in the form of clues and all the other girls had to guess who it was. We had a lovely time donning our hats and sipping tea together!