What is Involved in Piano Lessons?
          Leonardo spent years developing a codex of body parts. He drew ears, he drew elbows, he drew hands, he drew all parts of the body in as many different aspects as he could. Then he forgot about it and painted what he saw. You must do somewhat the same."

~Gyorgy Sebok, said in a masterclass to a student inquiring how to achieve a particular effect on the piano
While most students are initially excited to begin piano lessons, please be aware that they will face challenges and sometimes frustrations. As initial enthusiasm is replaced by awareness of the discipline and commitment required to attain excellence, encouragement and praise will contribute greatly to the student's success.
As a parent, here are some things you can do to support your child and provide an environment that will enable them to excel in their piano studies:
The Piano
You must have an acoustic piano or high quality full-sized keyboard (88 keys) in your home. A piano is strongly recommended as nothing can take the place of its touch and sound.
A piano should be tuned at least once a year. I recommend Joe Wisner as a piano tuner/technician. Let me know if you are interested and I will give you contact information for him.
The piano should be located in a well-lit place that allows practicing to be done with as few distractions as possible.
For small students, make sure that you have an adjustable bench or large books available that can be used as a booster to raise them to the correct position.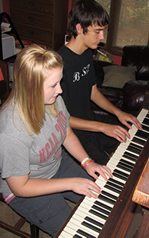 The Practice Environment

Students who establish good practice habits from the beginning will progress more rapidly and find piano practice and lessons more enjoyable. The amount of time required for good quality practice will vary depending on the student's age and playing level. More importantly, however, is that practice is done on a consistent daily basis with a clear goal in mind.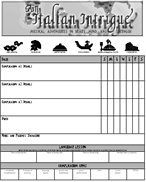 Set aside a scheduled practice time for your child (I require all students to practice 5-7 days per week).
Familiarize yourself with the studio theme for the year so that you can help your child stay on track and reach their goals.
Supervise home practice sessions and sign Assignment Books, making sure your child completes all assignments. At Natalie's Piano Studio, specific practice assignments are given each week and all practicing must be recorded by the student in their Assignment Book. Students under twelve years of age must have their practice record signed by a parent. In the event that daily practice is not being completed, I will work with the student (and parent, if applicable) to determine the cause and possible solutions.
Listen to music at home, and attend a variety of musical events together throughout the year.
The Lessons

Ensure that your child arrives at their lesson at the appropriate time – (not too early, not late).
Sit in on lessons periodically.
Provide feedback and suggestions for me that will increase the effectiveness of each lesson.
Encourage your child to participate in studio group classes, recitals, and community festivals.
Attend Year-End Evaluations (held the last week of the spring semester) so that we can discuss the student's progress over the past year and clarify direction and goals for their continuing music studies.
The Student's Responsibilities
Complete daily practice and accurately record it in the Assignment Book.
Be prepared for lesson (with all books and completed theory or other projects).
Keep fingernails trimmed short (should not extend past the end of the finger) to ensure proper hand position and good technique.
Wash hands before each lesson.
The Group Classes
One of the extra perks at Natalie's Piano Studio is the opportunity to attend a group class approximately every 6 weeks throughout the year. These are scheduled in addition to the regular private lessons, and the students who participate benefit in a variety of ways:

They learn new musical information and skills.
They develop camaraderie with other students in the studio who are striving toward similar musical goals.
They are inspired to pursue a higher level of excellence in their practicing and playing.
They are motivated to increase their musical knowledge and understanding for application in the group activities.
They experience the enjoyment of ensemble music-making through duets and other collaborative efforts.
They have tons of fun working on projects and playing games together!
They develop a higher level of confidence and expertise performing in front of others.